Using Calendly to Get Kittens Adopted
April 23, 2021

This is the first post in my new "Everyday Automation" series, which explores using free tools and services to make every day life just a little bit easier.
As a bit of background, through 2020 I have been fostering kittens. While fun and entertaining, the process of getting them actually adopted during COVID can be time consuming. The program we foster through switched to virtual Meet and Greets, which means when a litter of kittens are ready to be adopted, we have a huge flurry of interest all at once. Each kitten is initially limited to 15 meetings, but with a litter of 5 kittens, that is still 75 meetings that may have to be scheduled.
This was previously being handled with a lot of back and forth email to schedule times, communication mix-ups between zoom links and phone numbers, and last minute cancellations. It took hours of time.
This last litter, we tried something new and automated most of this workflow with a combination of Calendly and Google Mail Templates.
Calendly is a service that helps you schedule meetings without the back-and-forth emails. While it is typically used in a business setting, Calendly can be used to allow anyone to "book" a time slot with you. It integrates easily with your calendar, lets you set an availability, and avoid conflicts. We can easily make their free tier work for our purposes.
Set up Calendly
The first thing we will do is set up a Calendly account. You can do this directly from their home page. After signing up, you'll end up with a page similar to this: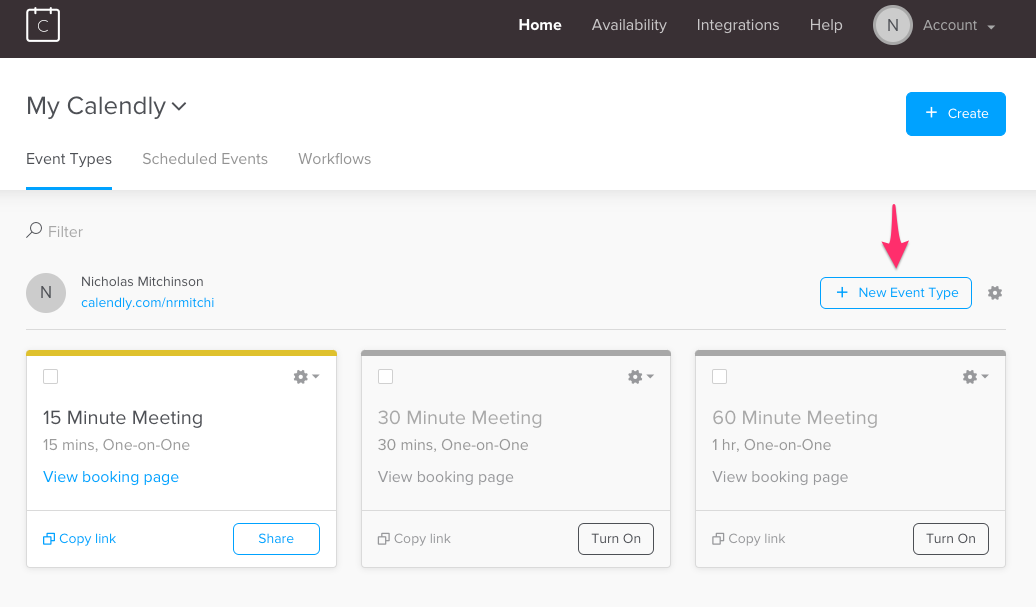 For our Meet and Greets, we'll want to create a new account type. You can read more about creating an event type here, but for our purposes we want to create an event that is:
A "Google Hangout" or "Zoom" event. Calendly will create the chat room for each individual event booked. (Note that if you chose Zoom, you'll have to link a Zoom account)
Bookable at least 2 hours in advance, in order to us to have some notice before new meetings.
Check for conflicts against our linked Google Calendar.
Has our availability only evenings and weekends
A "Secret Event" so that this event type is only available to those who have the sign-up link directly.
We can hide/delete the default event types, and be left with this: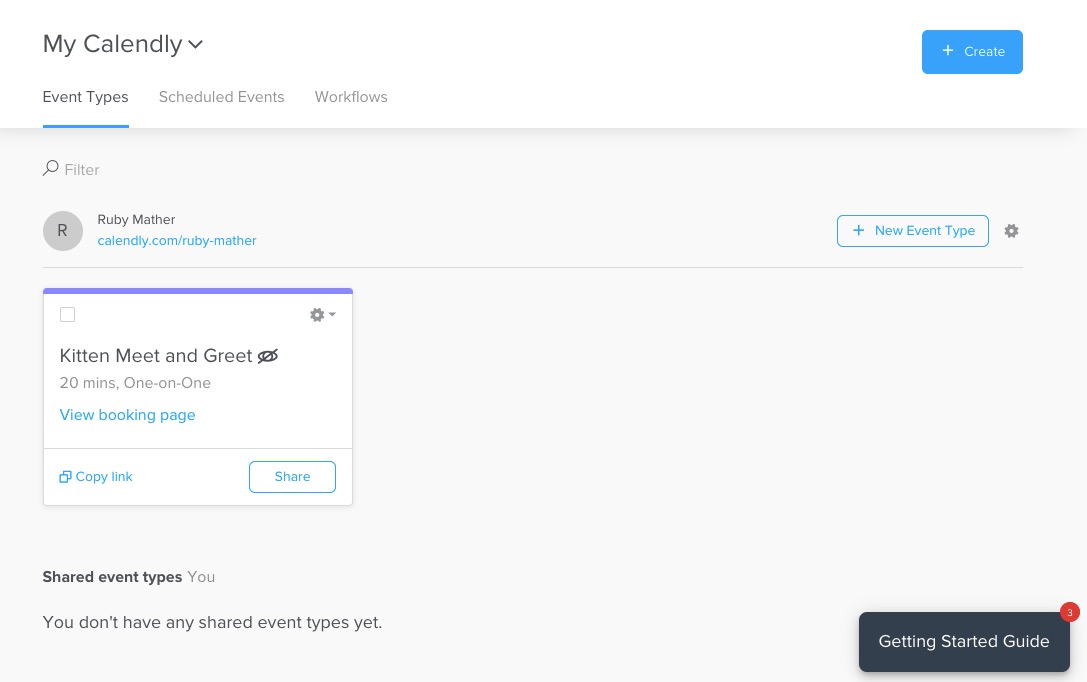 Now we will have a link that we can copy and send potential adopters when they express interest in a kitten that allows them to pick and instantly book a time to meet them. Significantly easier!
When they click on the link, it would look something like this: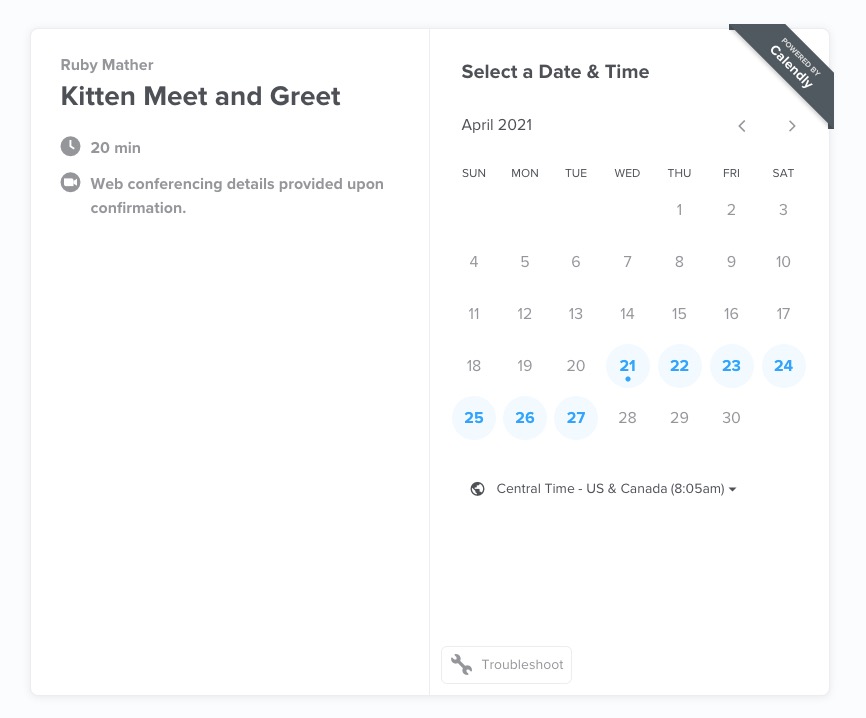 Note: Asking for contextual information in the meeting sign up is a great way to ensure your meeting gets off to a smooth start. For example, we asked the potential adopter to include the name of the kitten(s) they were interested in. This way, we knew exactly who to show off before the Meet and Greet even started, without having to dig through emails.
Gmail Templates
Note that you may have to enable Templates in your account before continuing.
Repeatedly typing out the same reply email can still be very tedious, so we were able to make this faster by using a Gmail Template.
Adding this template is a couple clicks per email.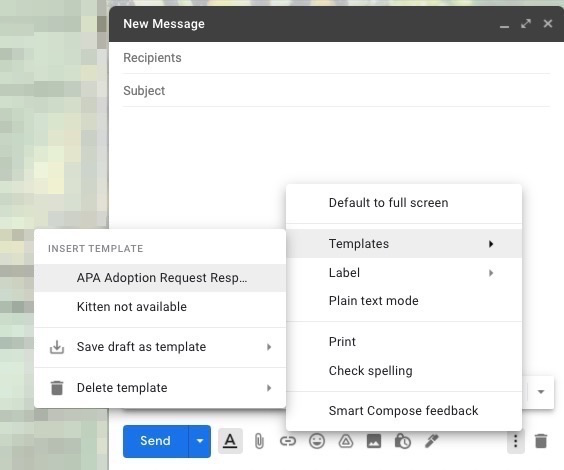 In order to keep this generic enough, we decided on the following text:
Thank you for your interest! I'd love to show off this kitten in a virtual meet and greet. The easiest way to schedule a time is with this link:  https://calendly.com/ruby-mather/kitten-and-greet

Keep in mind that APA decides on the final adopter on a first come first serve basis, so sign up at your earliest convenience.
It's easy to change the "this kitten" text to the actual name, but this way if you forget, it still makes sense.
Automated Filters
We did not go this far the first time through, but the next step here will be using a Gmail Filter to automatically reply to new interest emails with the template. It's important to verify filter behaviour before taking automatic action, and this time around by the time we felt comfortable with automating it everyone was adopted.
Results
In the end, we were able to schedule approximately 30 Meet and Greet calls within the first 3 days of the litter being available, with less than an hour of total work (call time excluded). It took a total of 3 days to get confirmation that the entire litter had adopters lined up.